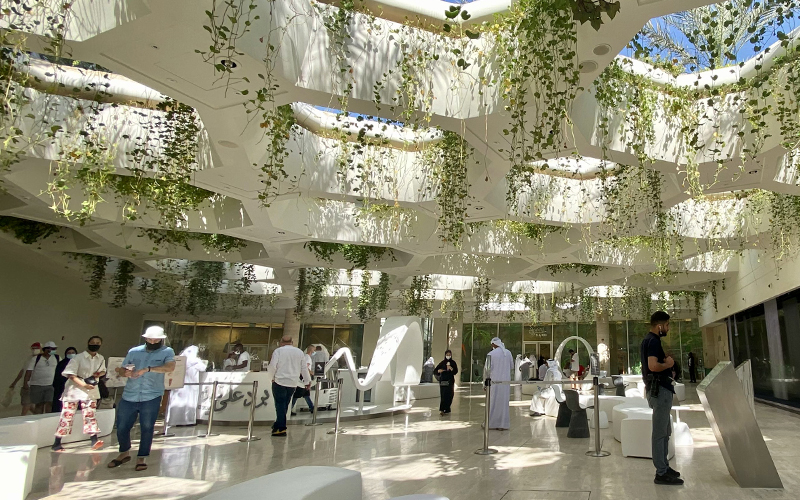 Celebrating Saudi natural landscapes in a futuristic setting.
Palms beyond the skylights filter the Dubai sun in soft shadows over elegant hanging gardens with cascades of yellow Maiden's jealousy and pink Sweet Potato Vine to create a cool and relaxing environment.
The EXPO 2020 Dubai KSA Pavilion cantilevers over terraces of native trees, flowering shrubs and hanging gardens. Working closely alongside Boris Micka Architects (BMA) on the interaction of the architecture with the landscape we ensured a consistent design language. The Vision was for an inspirational journey showcasing the Saudi Kingdom and its 'Natural Wonders'.
On arrival, a shaded events Plaza provides seating for audio-visual displays and folklore performances. A refined palette of locally sourced grey granites and natural stone allows the Pavilion and surrounding gardens to 'sing' their true colours, especially at night when there are projections and LED displays.
Surrounding the Pavilion, an oasis of KSA native date palms is planted with a colourful understorey. The palms are arranged on an intricate grid that allows dappled light to filter into the exhibition spaces below where cascading greenery creates a cool environment. A particular challenge was to suspend the palm gardens in a complex spanning steel structure; we successfully developed a water efficient automatic irrigation system and drainage to the trees.
Inside the Pavilion, a contemplative dry garden epitomises Saudi Arabia's natural Wadis. Palms help to contain the tranquil garden and sensitively conceal back of house facilities while a mirrored green retaining wall reflects the garden back on itself, adding visual delight. After EXPO the Pavilion will remain as an enduring legacy of the World Fair.