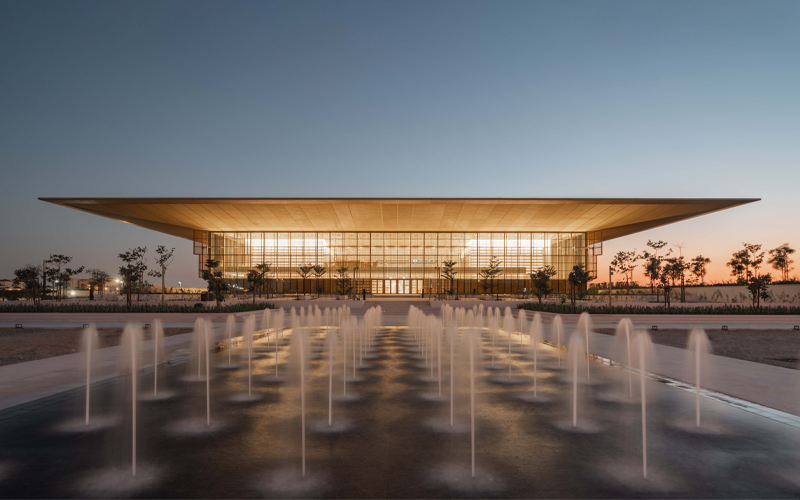 Referencing the cultural significance of making a repository for important books, four foundational design pillars of Heritage, Culture, Environment and Education are echoed throughout an award-winning landscape design.
Working closely with Foster + Partners a synergy was built between architecture and landscape creating dramatic views in an iconic setting. Connecting the building with its urban context, a focal point was developed around a monumental sculpture by Gerry Judah, 'The Scroll', marking the Emirate being UNESCO World Book Capital in 2019.
Complementing the building's formality, a faceted landscape of contemporary angular forms greets the visitor. From this formal arrival the landscape divides into a series of spaces: Gardens of Knowledge, Education, Poetry and Arabic Calligraphy interpreted from classical arabesque gardens. A series of screens separates these into intimate 'rooms', while lush shaded courtyards extend the building's interior spaces. Water is a key feature. A contemporary re-interpretation of a traditional falage is used to irrigate a palm oasis, and a cooling mirror pool adds drama. Slopes, terraces and walls provide engaging play, and learning is encouraged through a connection with nature. A sensitive mix of native and adaptive plants reduce the water demand and create an authentic, regional landscape, helping to conserve indigenous flora.
Shade trees arranged around the building and smart landscape design features lower the overall energy consumption. LED lighting enhances the architectural lines in contrast to the warm, softly lit social spaces where, inspired by the function of the library, the exterior benches are accompanied by reading lamps.