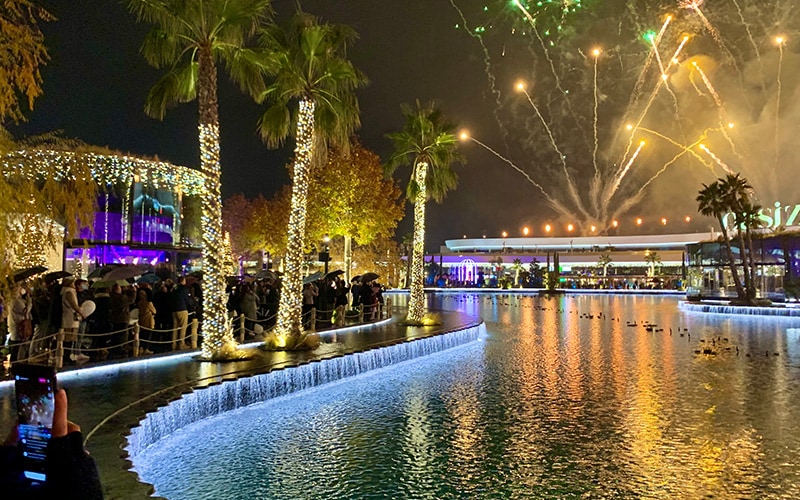 Grand mature trees are reflected in the shallow lakes of this contemporary yet gardenesque lush retail landscape.
In a celebration of culture and community this vibrant shopping and entertainment destination is a regional draw. The mountains and rocky pools of Madrid's Torrejon de Ardoz region inspired the simple bold fluidity of the landscape design. Looking to drive footfall by activating and connecting all the open spaces, two visually interlinked lakes provide both attractive wetland environments and an entertainment venue; a series of terraced decks enliven the lake edges with atmospheric café seating and outdoor dining.
Sinuous paths direct visitors around the landscape in a flowing movement that is punctuated by a series of sensory nodes. These intense gardens concentrate taste and sound, touch and scents, evoking immersive and intangible experiences such as music or memory.
Fun and contemporary, the space is a fluid story of experiences. An open air stage, an urban beach, sculptures, oversized bean bags, hammocks and fountains provide inspiring and surprising pockets of play and delight, encouraging the curious to explore. After dark a sparkling array of colourful light displays and cinema screens bring a creative buzz to the plazas.
Sustainability was built into the design from inception. All roofs either have planted gardens or are covered in seedum, solar panels cover 7500m2, the lake water is recycled and photocatalytic materials were used throughout the construction. The project's BREEAM Excellent rating is a reflection of the design team's innovation and commitment to it's design resilience.