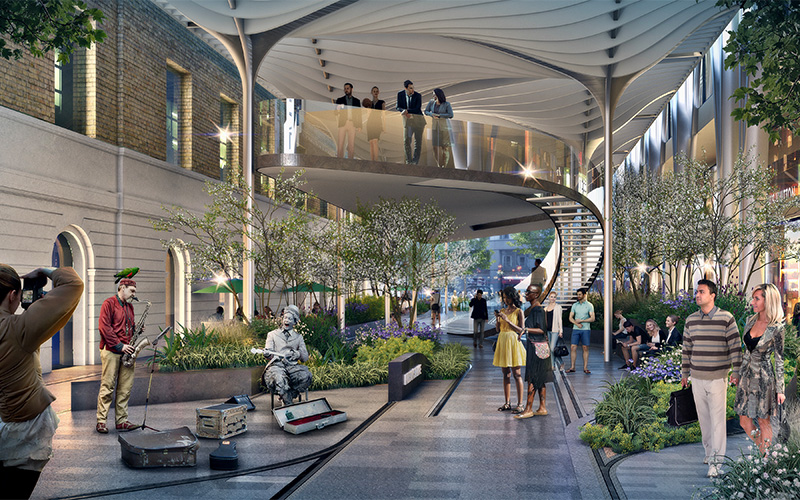 Reactivating this forgotten open space adjacent to Victoria Station and a new mixed-use tower, a successful and vibrant covered square was designed that enhanced the character and layered heritage.
Set in the midst of the busy Victoria BID and Station area in Westminster this space had become a back alley for parking. The building of the new tower created an opportunity to revive the area and make a vibrant spot to wait for a train with café spill-out, street entertainment and under arch boutique retail. The brief looked to fulfil the principles of the BID by improving the pedestrian environment, character and culture with a lively events program and inclusive opportunities for play.
Taking inspiration from the restless station platform activity of yesteryear and the historic focal points used to guide visitors on their journey, the street was designed as a series of flowing, engaging moments and experiences varying from conservatory, arcade, garden and lounge to stage. A raised pub-bar was added to create a viewing platform and eye-catching focal point for the space without compromising the visibility to the streets beyond.
Drawing from the flowing lines of train tracks used as a design theme in the new architecture, lines were brought into the landscape to both subdivide and link spaces together. Planting was introduced to create an attractive setting for the retail and give privacy to the café tables and bar, whilst allowing pedestrians to walk through with ease.
Bespoke seating with a design nod to heritage railway carriages and use of industrial robust materials completed the feel of this rejuvenated London street.